New Trends in Reclosers and Testing—Enhancing the Reliability of the Grid
April 26-27, 2017 | OMICRON Academy Houston Training Center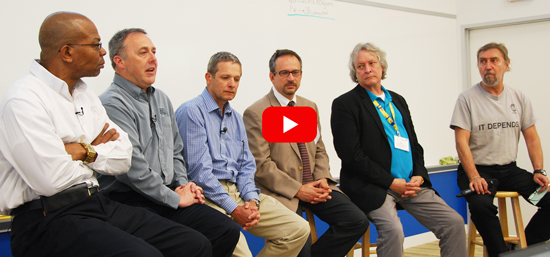 "Ask the Experts" Manufacturer Panel Discussion at the 2015 workshop. (L-R) Patrick Avery of G&W Electric, Craig Thompson of Schweitzer Engineering Laboratories, Andre Smit of Siemens, Peter Selejan of ABB, Mike Meisinger of S&C Electric, and Alex Apostolov of PAC World (moderator).
This two day workshop will take place at the OMICRON Academy in Houston, TX and will include a combination of presentations by utilities and manufacturers, panel discussions, and the opportunity for live hands-on demonstrations showing the latest approaches and technologies being presented. Come and learn from more than twelve industry expert speakers.

Workshop Cost: $495.00 per person for 2 days includes Continental breakfast, lunch, breaks and dinner-reception on April 26.

Time: Classes will be held from 8:00 a.m. - 4:30 p.m. on April 26 and from 8:00 a.m. - 3:00 p.m. on April 27.

Eaton Tour: Eaton will host a tour and reception at their Innovation Experience Center in Houston the evening before our Recloser Workshop (April 25th from 5:00 p.m.- 7:00 p.m.).

Registration Deadline: April 5, 2017. Seats are limited.

Location:
OMICRON Academy Training Center
3550 Willowbend Blvd., Houston, TX 77054
Phone: 713-830-4660
Manufacturer Displays

Plan to meet Manufacturers of Reclosers and Recloser Controls who will have table top displays set up in the OMICRON Academy during breaks and lunches. They'll be on hand to answer your questions and provide technical information.

---
By registering for this event, you are granting OMICRON permission to use any photograph, video, or recording of you to document the event and promote this and other events. If you have questions or concerns, please contact our event coordinator.