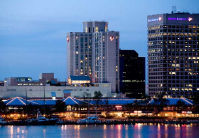 New Location for 2018: Norfolk Waterside Marriott Hotel
UPDATE AS OF 8/23/18 - THE HOTEL IS SOLD OUT OF OUR BLOCK.
We are working to arrange for overflow rooms at a nearby hotel - please check back on Monday for update.
Conveniently located in the heart of downtown Norfolk and beautifully situated on the Elizabeth River, the Norfolk Waterside Marriott Hotel offers conference attendees a vast variety of activities, restaurants and historical sights. Also, perfectly time for our conference, the hotel will have recently undergone newly renovated meeting space, sleeping rooms and function space!
We have negotiated the same hotel rate that we have had for the past two years - $139.00/single or double. Our conference rate will be available until August 20th. To book a room, please click on our personalized reservations page: 2018 Virginia Hazmat Conference
Important Note: The Marriott's website list parking at $20/day but we have negotiated a reduced rate for the Virginia Hazmat Conference of $14.00/day. The discount will be applied upon your check-out of the hotel.